The Pavilion at the Masonic Homes is operated through the Masonic Homes of California, a service of the Masons of California. Masonry is the world's first and largest fraternal organization, based on the belief that each man has a responsibility to help make the world a better place. The Masonic Homes of California embodies that commitment to helping our members, their families, and their communities live well and achieve meaningful and rewarding lives.
The Masonic Homes of California was founded in 1898 in Decoto, or what is now called Union City, where the fraternity opened the first Masonic Home to care for widows and orphans. About 16,000 members donated funds for the land, materials, and building construction costs. Eleven years later, the fraternity opened a second home in Southern California. More than a century later, these two original buildings have evolved into our present-day retirement communities in Union City and Covina.
Over the years, the Masonic Homes of California have also developed outreach and youth programs that are relied upon by hundreds of families, both with and without Masonic affiliation. They continue to be funded by the donations of California Masons.
Masonic Homes Earns 2021 Top Workplace Award
Masonic Homes of California has earned the 2021 Top Workplaces USA Healthcare award.  Several thousand organizations from across the country were invited, and more than 1,100 participated in the Top Workplaces USA survey.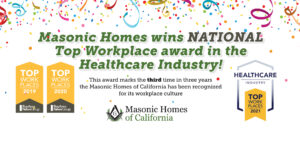 This award follows two years of being named Best Workplace Bay Area. The Pavilion staff is part of the team that earned this award, and we are proud to be considered a top workplace. 
Getting Here
The Pavilion at the Masonic Homes is located on a picturesque 305-acre campus in the heart of the East Bay. Nestled in nature, our beautiful hilltop vantage point provides wonderful views of wide-open spaces, a creek, walking trails, and wildlife. Our convenient location offers easy access to the urban attractions of San Francisco, the East Bay, Silicon Valley, and the Tri-City region, as well as nearby coastal and wine-growing regions. Three major international airports (San Jose, Oakland, and San Francisco) are easily accessible via public transportation.
Contact Us For More Information